Almanac Article
Pacific Coast Irises - What I Grow and Why I Like Them
Jean Witt, Seattle, Washington
Almanac, Fall 2000 Vol.29, No.1: 8-9
[Adapted and slightly modified for the web]
Photographs by the author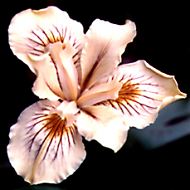 We had wild irises – Iris missouriensis – where I grew up in eastern Washington. Then, after I joined the American Iris Society, I found that the world was full of irises.
I set about collecting as many species as I could, including I. douglasiana and other Pacific Coast Irises. I learned we had a second native species in southwestern Washington - I. tenax. I even managed to collect a plant or two on the way to Portland before the freeway was put in.
I liked the dainty PCI flowers, and the plants did well in my suburban Seattle garden, so I kept adding a few more species and named clones - old standbys like AGNES JAMES, AMIGUITA, Ami Royale, and Golden Nymph. All were apparently well suited to Seattle's glacial soil and winter-wet climate. They may lack "modern" flower form, but their performance is impeccable.
Several clones of I. innominata were given to me by Roy Davidson and others, from their collecting trips in southwestern Oregon in the 1960s. Again, many of these proved very durable in the garden. Perhaps the best is an orange-yellow form of I. innominata.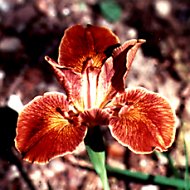 One that didn't make it - to my regret - was a bing-cherry-colored flower of that same species. A medium blue I. tenax with a darker blue thumbprint from the Oregon Cascades is another I'd like to try again.
Iris bracteata grew well for me for many years, but finally seems to have disappeared. I. purdyi MEMORIA ELWOOD departed to summer rot a year or two ago after many years' residence, but left behind interesting seedlings; other clones not quite so elegant now take its place. I. chrysophylla, collected in the Oregon Cascades, is happy along the walk on the south side of the house. It even sets seed – tiny short - stemmed capsules with very few seeds.
The I. tenax X I. chrysophylla hybrid VALLEY BANNER cannot be said to be a vigorous grower, but I have managed to keep it going, and it has given me promising seedlings. One is a tiny pale pink with darker pink style arms - too fragile to be a commercial item, but indicative of the inherent possibilities.
Lovely deep blue-violet I. macrosiphon succumbed during reworking of the rock garden, but left its genes in the sinister tan/violet "Morticia", with black perianth tube and petal bases. Newer, bluer I. macrosiphon seedlings are spreading their white blazes around without any help from me. Two half-munzii hybrids from Ben Hager have been with me for 25-30 years, badly winter-damaged only once in that length of time. Eventually I hope to get around to combining these with my best I. tenax.
I've had several of Joe Ghio's older things long enough to consider them permanent. COUNCILMAN is always the first PCI of the season and I wouldn't be without it. IGNACIO, BIG MONEY, JUNIPERO, and RESTLESS NATIVE are others of his that have been successful.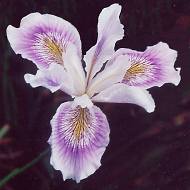 I've tried to collect plants from a variety of breeders and different venues. CREAMY CUSTARD, raised by the late "Red" Logan of Tacoma, is a vigorous pale yellow.
The white flowered CANYON SNOW and WESTERN QUEEN have been quite successful. ANTIQUE JEWEL, gold with a bleeding red signal, appears to be derived mostly from I. innominata, as does a warm white and raspberry red seedling bequeathed me by Leona Mahood.
The late Fred Crandall, a local breeder of tall bearded irises, couldn't resist trying his luck with PCIs, and I inherited several of his seedlings – wide petaled blues and whites.
My preference in PCIs is for the smaller types such as I. tenax X I. innominata, or crosses of the various color forms of I. innominata, which have given me some very good bright reds in plants of rock garden size.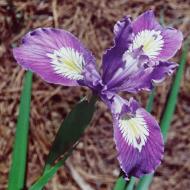 Unfortunately, these smaller plants do not transplant or ship well. Seed strains could be a possible answer. I also prefer flowers with more of a species look than is currently fashionable; for me they grow better than some of the newer things further removed from the wild.
I don't do much hybridizing any more - too little room and too little energy, so I have yet to realize my goal of a vigorous three-way hybrid combining I. tenax, I. innominata, and I. douglasiana. I still make occasional crosses of PCIs and a number of Cal-Sibe crosses every year.
Even without planned crosses, new patterns keep popping up in my garden – double halos and spot patterns of many kinds. The most recent were violet flowers with one eighth-inch spots of tiny violet dots near the tips of their white signals, somewhat like a pattern previously described by Dora Sparrow. Offhand, it looks to me as if I. innominata is the source of these variations.
There are many reasons why I like PCIs:
They are ideal plants for the water-conservative garden. I can tuck them into odd corners beyond the reach of the hose.
Their evergreen leaves maintain their good green color the year around.
I get about two months bloom from a succession of strains: I. tenax and I. innominata early, and I. douglasiana late.
The blooms make exquisite small-scale flower arrangements, even if the individual flowers are more fleeting than the florist's Dutch irises.
The ivory and rust seedpods are as good as flowers in dried bouquets.
PCI clumps don't have to be divided nearly as frequently as bearded irises, and dividing can be postponed by cutting out part of the clump every year or so for plant sales - PCIs are always in demand around here.
They grow so easily from seed that hand-pollination is not necessary in order to obtain beautiful seedlings, if garden display rather than introducible varieties is the object.