Almanac Article
Pacific Coast Iris in British Columbia
Harry Hill, Roberts Creek, BC
Almanac, Spring 2001 Vol.29, No.2: 5-8
[Adapted and slightly modified for the web]
As a recent convert to Pacific Coast irises, I hoped there might be something to learn from the experiences of long-time PCI growers in British Columbia. I wrote to the other SPCNI members in BC, and to the members of the Alpine Garden Club of BC who had contributed Pacifica seed to the group's seed exchange last year. I asked if they would share what they had learned growing these plants in a generally cooler, wetter region somewhat north of their home territory.
Here are some of the replies, – from Brent Hines of Vancouver; Kathy Millar of Duncan on Vancouver Island; Dee Fitton, Rosemary and Len Wallbank, Elizabeth Pellett, and Pat Parkes of Salt Spring Island; Andrée Connell of Galano Island; Joy Flint of Victoria; Paige Woodward and her mother Pat, owners of the Pacific Rim Native Plants Nursery near Chilliwack in the Fraser Valley; and Doug Murray of Hope in the Fraser Valley. All live within about 150 km from Vancouver, in south western British Colombia.
My own enthusiasm for PCIs came through an interest in growing West Coast native plants – low-maintenance species naturally adapted to our cool, wet winters and temperate, dry summers. Unfortunately, none of the Californicae series iris range as far north as BC. (Iris setosa occurs in the northwest of the province, and I. missouriensis in the south). The range of the most northerly Pacifica, Iris tenax, ends just south of Tacoma, Washington, which is only marginally warmer than Victoria or Vancouver, BC.
Lowest winter temperatures for the last three years in coastal BC have been about -3C to -7C (27F to 19F). Historically, temperatures have dipped as low as -15C (5F) when Arctic fronts swept cold outflow winds through the valleys and fjords to the coast. (I'm counting on global warming to put an end to that sort of intrusion on my gardening of borderline species!)
Interestingly, the region in BC where Pacifica iris are grown includes the northern ranges of madrone (Arbutus menziesii, called "arbutus" in BC) and Garry oak (Quercus garryana). The center of distribution of these two trees is Oregon and Northern California, – also the center of distribution of most Pacifica iris species.
Iris tenax might be considered the most cold-hardy PCI, but the iris growers I corresponded with all cited I. douglasiana as more tolerant of the high winter rainfall and heavy soils found in most coastal BC gardens. Only those gardening in sandy, quickly draining soil thought I. tenax was a good choice. Several named I. munzii as one of the more difficult species to establish. One who had grown many munzii hybrids reported that they were short-lived, weak-looking plants, but their flowers were "the most beautiful blues I'd ever seen – to die for!"
Pacificas have a requirement for excellent drainage; members of alpine garden clubs located around Vancouver and Victoria have had the most success growing them.
Many of the earliest growers here obtained seed from British seed houses. Recent sources include seed exchanges organized by the alpine clubs, SPCNI and SIGNA. Last year, the Alpine Garden Club of BC listed 13 PCI species and hybrids among the 1,539 items in its seed exchange.
Several native plant nurseries in the province offer I. douglasiana, I. innominata and I. tenax, but Pacifica iris are not common in the general nursery trade. Some BC gardeners have ordered named hybrids from U.S. mail order nurseries. Unfortunately, phytosanitary and shipping expenses can be discouraging. Delays at Canadian customs can threaten the viability of rhizome divisions (which isn't great to begin with!)
Brent Hines, curator at the University of British Columbia Botanical Garden in Vancouver , said the North American section of its extensive alpine gardens contains numerous PCI species and varieties. Many were grown from seed obtained through the Alpine Garden Club or from old private gardens. Iris douglasiana and I. tenax have lasted almost 20 years in the garden, hybridizing somewhat. The collection also includes different color forms of I. innominata and a dwarf form of I. douglasiana.
Brent's PCI seedlings spend their first winter in a cool greenhouse. "I always plant out in mid-spring, after the soil has warmed," he says. "They really take off then." The iris plantings occupy a sloping, well-drained site. "I've lost a few to winter wet, but none to cold or pests that I've seen."
After many years of growing PCIs, Kathy Millar of Duncan, Vancouver Island, has become a bit cynical about their adaptability. "They are never dependable for transplanting as divisions, seedlings or potted plants," she maintains.
Kathy is the only Canadian I located who had registered any PCIs. Her DOROTHY V is a vigorous cream/purple I. douglasiana cross, grown from seed that came from the Vancouver Island Rock & Alpine Garden Society. She sold many divisions of it from her former home nursery –– Millar Mountain Nursery –– and has still has a large clump. Her VERA HAYES is 18" tall, with lavender falls veined in purple and with a dark halo around a white signal. It was grown from Thompson & Morgan seed. She hopes some of her customers still have it because she lost her last clump when she moved three years ago.
Only a, few of the dozens of Pacifica species and cultivars she had at her old property survived the move. PCIs are notoriously hard to transplant, but going from a gravelly soil to heavy clay didn't help either, says Kathy. A few Joe Ghio varieties she'd had for 10 years, such as BIG MONEY and EARTHQUAKE, survived, but most of her Ghio seedlings succumbed. Many I. tenax plants that had thrived in almost pure gravel couldn't adapt to the heavier soil in her new garden.
She propagated some of her best PCIs by division, but most were grown from seed and put into gallon pots at one year of age. Once in bloom, they sold on sight, she said.
"PCIs are easy to grow from seed, but they're not long lived, except for Iris douglasiana and innominata. Except for those two species, I do not consider PCIs to be reliable border plants," says Kathy. "I think their motto is, 'Here today, gone tomorrow'!"
Salt Spring Island, midway between Victoria and Vancouver, seems to be a hotbed of iris growers. The local garden club has a very active subgroup focusing on iris, and its members hold a joint membership in SPCNI. The poor quality soil and rainshadow conditions (half the 150cm/60" annual rainfall of Vancouver) may actually be an advantage in growing PCIs.
"I began growing PC iris shortly after moving to Salt Spring 10 years ago," said Dee Fitton. "I started with seed mixtures from some of the bigger seed houses, like Thompson & Morgan, Aimers and Chiltern. After our group joined the iris society, I began growing named cultivars, although I haven't found any to brag about so far."
"Like many Salt Spring Island properties, my garden is on a steep shale slope, so the soil is not humus rich. Nonetheless, my iris don't seem to mind," she said. "This winter should be a good test, as last summer I finally got some young seedlings into the ground on the lower part of the property. Although it is near the water, it is also the frost pocket of the garden. So far, I haven't noticed any damage and we'll see what spring brings by the way of blossoms.
"As to soil prep and growing conditions, the major thing I worry about is drainage. My soil is largely sand based, so I might add some composted materials as well as a top dressing of composted manure and bark. I wish I could say that I worry over them and feed and primp them, but the sad truth is that I don't," admits Dee. "One experiment I tried, which didn't seem to work, was to grow them in more sunshine. Even with our extensive cloud cover, I've found them to do better with light shade. But this new planting down below might test that theory, as they'll be getting full sun."
Rosemary and Len Wallbank of Salt Spring Island are both gardeners and iris lovers, although Len does all the seeds in their household.
"Len has killed a lot of seed and seedlings!'" reports Rosemary. "The tough or lucky ones are now in raised beds, filled with 'made' soil – our own mix of compost, manure, leaf mould, sand, woodchips/sawdust and the soil that was here. Len typically starts seed in the greenhouse. Most stay in pots until they are say 6" high – usually because we don't have anywhere to put them!"
Another Salt Spring islander, Elizabeth Pellett, once took a gardening course at the Los Angeles County Arboretum in Arcadia, California. Lewis and Adele Lawyer made a presentation on Pacific Coast irises, and she was captivated. Shortly after, she became a SPCNI life member.
Elizabeth has an large collection of bearded and beardless iris. In addition to several PCI hybrids, she has two Iris tenax (one a beautiful blue), an I. douglasiana and an I. innominata. They have all bloomed beautifully for the past nine years. "My soil is acidic and has a good quantity of rock," she says. "I have done no soil amending."
Pat Parkes, who specializes in beardless iris at her Parkside Gardens nursery on Salt Spring Island, says she normally overwinters her PCI seedlings in a cold greenhouse and plants them out in late spring. I. innominata, I. douglasiana and I. tenax grow well outside for her, while she overwinters her I. bracteata, I. munzii and I. hartwegii in pots in the greenhouse. She says she cannot keep I. chrysophylla or I. fernaldii for any length of time.
Pat has had success dividing her I. innominata and I. douglasiana in late fall after the rains have started (mid to late October).
Andrée Connell of Galiano Island has been growing Pacifica iris for 20 years. The first were named varieties (although she's forgotten their names), obtained from friends in the Alpine Garden Club of BC. She has also grown hybrids from Thompson & Morgan seed, and seed obtained through seed exchanges.
"On Galiano these iris might just as well be in seventh heaven, given their propensity to colonize. I haven't ever noticed any damage, much less any losses from cold," she reports. "If I have sown seed deliberately, those plants are in pots until planted out, which is usually over at least one winter. I merely endeavor to keep excess moisture from the pots as I do with any other potted plant left out."
"I tend not to move whole plants," says Andrée. "If I want to give some away, or establish one elsewhere for insurance, I normally carve off a chunk leaving the remainder in situ. I pot up zillions of seedlings for our local plant sale. Any and all of this can and has taken place at almost any time of the year."
Andrée says her iris get no "cosseting" of any kind. "My PCI get 'tough love' and thrive on it! Here on Galiano, I've planted them directly into our rock and sand which passes for soil, and included them in beds bulked up with commercially purchased 'topsoil' – you know, the kind of stuff that won't even grow weeds – often with doses of mushroom compost and our own well rotted woodchips. Some may get some bone meal every year or two, if I'm giving it to plants in the vicinity."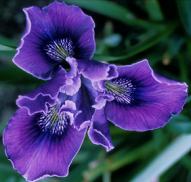 Joy Flint of Victoria first saw PCIs at a rock and alpine show in 1975, and later purchased some I. douglasiana seed. "I planted them in new pots with sterile potting soil and chilled for 30 days," she says. "I put them on a baker's rack and they germinated well. Next batch I soaked overnight and planted in pots and put them in a cold frame, and they also did well. All were planted in the garden at the end of March."
She has since added other species, grown from Lawyer seeds. "They have done well and I shared with Beacon Hill Rock Garden and some to Government House Gardens," she said.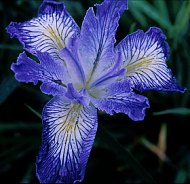 Joy's PCI fertilization regime entails giving a sidedressing of alfalfa pellets in February and Miracid once a month in spring.
Paige Woodward and her mother Pat have developed an fascination for Pacific Coast iris at their Pacific Rim Native Plants Nursery near Chilliwack in the Fraser Valley. "The light went on in 1994 when I joined the SPCNI and acquired the essential references it distributes," said Paige.
A confessed "species bigot," Paige obtained most of her seed from SPCNI and SIGNA. "At first I didn't try species from farther south than Oregon, fearing that our Zone 6 cold and winter monsoons might kill them," she said. "Gradually, out of curiosity, I let other species creep into our propagation beds; they survived. Now the only species we don't have in the nursery is I. fernaldii, but we've got seed of it, now, too, so we'll see."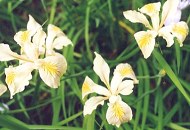 "If you focus on species rather than cultivars as we do, some seed is hard to come by. You can almost always find Iris tenax and I. Douglasiana, but maybe not I. thompsonii, I. purdyii, I. tenuissima, and I. macrosiphon."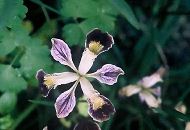 Paige is often puzzled by seedling losses that occur over their first winter. "The cause is rarely clear; other iris of the same species survive handsomely in similar conditions nearby," she reported.
"All species that we've tried grow well in rotted fir bark amended with fertilizers or compost. Sometimes, instead, we imitate the soil they'd grow in on their home ground, be it gravel or peat," said Paige. "No matter what, we always sprinkle alfalfa pellets on the surface. There are rationalizations of this voodoo on the Canadian Iris Society's website:   http://members.attcanada.ca/~cris/CIS/alfalfa.html."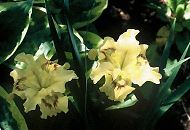 "We do sell some to native-plant enthusiasts, but I'm never quite sure whether they think they're beautiful, or just want natives," she says. "Most irisarians seem to go for tall, I am tempted to say blowsy, bearded hybrids. A few go for the great difficulty and rarity of aril irises. In my eyes, PCIs are the simplest and most elegant."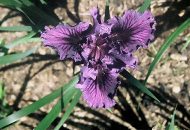 Further up the Fraser Valley, Doug Murray of Hope reports that he has about 100 PCIs that bloomed last spring – so many, in fact, that he has had to farm them out to friends' gardens. Many were started from seed he obtained through the SPCNI seed exchange, which he joined in 1992. He reported he had his best success with Steve Taniguchi's hand-pollinated seed.
The first PCIs Doug ever grew were from seeds he wild-collected in a huge field of I. tenax growing in scree conditions. He later obtained plants from Millar Mountain Nursery and from Aitken's in Washington state.
Gardening where rain clouds slam up against the Coast Mountains and North Cascades means having to contend with especially high precipitation. To aid drainage, he adds a bit of acid compost and sand before planting. "Mulch is often counter productive if we don't get extreme cold," says Doug. He finds native I. douglasiana, and hybrids with a high percentage of douglasiana in their 'blood' do best for him. "The dry growers don't winter well in our rainforest."