The Mitchell Award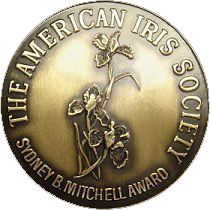 By 1996, there were more than 800 named varieties of Pacific Coast Native Iris. Some originated from unique plants - species or natural hybrids - found growing in the wild. But most were created through deliberate crossings by breeders trying to develop new iris with characteristics they considered desirable (like colorful flowers, longer blooming season, resistance to disease, more flowers per plant, or evergreen leaves).
The Mitchell Medal recognizes success in the hybridizer's craft, the year's single best new variety of Pacific Coast Native Iris. It is the highest award for excellence given by the American Iris Society to a Pacifica iris.
Sydney B. Mitchell was the first president of the California Horticultural Society, an author of several gardening books, and one of the earliest to urge the use of native plants in home gardens.
History by Clarence Mahan
This medal is restricted to Pacific Coast Native (PCN) irises. It is named in honor of Sydney B. Mitchell (1878-1951).
Sydney Mitchell loved plants and gardening even as a small child. When he attended McGill University, he made friends with the university gardener who gave him irises. Mitchell's brother allowed him to grow the irises in his backyard and he soon had a very large collection. His wife shared his interest in plants, and when he moved to California, where he worked at the Stanford University Library, they began their lifelong collaboration in the garden. In 1911, Mitchell moved to Berkeley to head the purchasing department of the University of California library, and the Mitchell's took their iris collection with them.
Prof. Sydney Mitchell was an educator. He became Acting Librarian at the University of California during WW I, and later founded and became first director of the Graduate School of Librarianship at that university. He was also one of the organizers of the American Iris Society, president and editor of the California Horticultural Society, a founding member of the American Fuchsia Society, and a prodigious author on gardening subjects for gardening and horticultural magazines and journals. He wrote four books: Gardening in California, From a Sunset Garden, Your California Garden and Mine, and Iris for Every Garden.
Tom Craig wrote this of him: "Sydney looked upon plant breeding as a long term international effort in which individuals from all over the world should co-operate and add generation after generation to a real human achievement. He made me feel a real part of this and more particularly a part of a special work started by William Mohr and carried on by himself. Sydney generously gave flowers and plants of seedling for further encouragement with this work."
Sydney Mitchell's collaboration with William Mohr, - and his continuation of Mohr's breeding lines is now one of the legends of the AIS. Mitchell also bred outstanding irises of his own, and was especially interested in obtaining large flowered yellow tall bearded irises. Some of his finest cultivars are 'Alta California', 'Happy Days', 'Naranja', 'Natividad', and 'Fair Elaine'.
Mitchell was also interested in the native irises of the West Coast, and promoted them at every opportunity. He took great pride in the plantings of PCNs in his own garden. He had a large collection of various forms of I . innominata and I. douglasiana.