Public Gardens
featuring Pacific Coast Native Iris
Would you like to see Pacific Coast Native Iris growing in almost natural settings, without traveling far from home? You can do it, at some of the better botanical gardens in the western states.

Almost any season is a good time to visit, but to see the iris at their best you need to be there during the blooming season (March through May in most areas; earlier for warm environments, or later at higher elevations, in cool coastal regions, or farther north). Home gardeners can often find attractive iris included in the gardens' annual plant sales.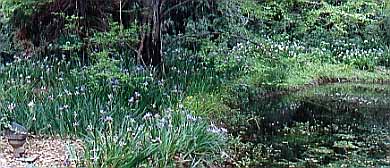 Regional Parks Botanic Garden
Wildcat Canyon Road and South Park Drive
Tilden Park, Berkeley, CA 94708
http://www.nativeplants.org
The world's most complete collection of California native plants. Its 10 acre collection is organized into 10 distinctive climate areas, where you find plants (including irises) growing together as they do in their natural environments. Excellent labeling makes browsing easy.
University of California Botanical Garden
Centennial Drive, Berkeley, CA 94720
http://www.mip.berkeley.edu/garden
World's fifth largest botanical garden, dedicated to the earth's major floras. Start in the various California regions to see Pacific Coast Native Iris growing together with their wildflower neighbors in natural settings.

Strybing Arboretum & Botanical Gardens
9th Avenue at Lincoln Way
Golden Gate Park; San Francisco, CA
http://www.strybing.org
A 55 acre museum of living plants suited to the mild Mediterranean climate of California's central coast. Iris douglasiana, I. macrosiphon, I. longipetala and several others grace the California Native Plant meadow.

Santa Barbara Botanical Garden
1212 Mission Canyon Road, Santa Barbara, CA 93105
Internet address: http://www.sbbg.org/
Sixty five acres in historic Mission Canyon, with five and a half miles of trails. More than 1000 species of rare and indiginous California plants. Plantings include 11 species and 55 cultivars of native iris. An extensive educational program,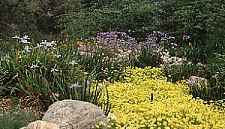 Rancho Santa Ana Botanical Garden
1500 No. College Ave, Claremont, CA 91711
http://www.rsabg.org
An 86 acre garden in the San Gabriel Mountains east of Los Angeles, dedicated to the appreciation, conservation, understanding and thoughtful use of California's native flora. Lee W. Lenz, who authored several important studies on Pacific Coast Native Iris, was director here from 1960 to1983.
Yerba Buena Nursery
195000 Skyline Boulevard (40 Langley Hill Rd.), Woodside, CA 94062
http://www.yerbabuenanursery.com
Spacious retail nursery in a rural setting, featuring 600+ varieties of California native plants, including several PCN iris species and hybrids.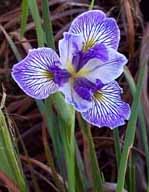 Mendocino Coast Botanical Gardens
18220 North Highway One, Fort Bragg, CA 95437
http://www.gardenbythesea.org
This magnificant 47 acre public botanical garden features several of the region's native irises in an attractive forested setting. There is a colorful assortment of "Pacifica hybrids" (photo on right), ranging from deep purples, reds and pinks to creams, whites and yellows.