Wild PCN iris - four unique species:
2. Siskiyou iris - Iris bracteata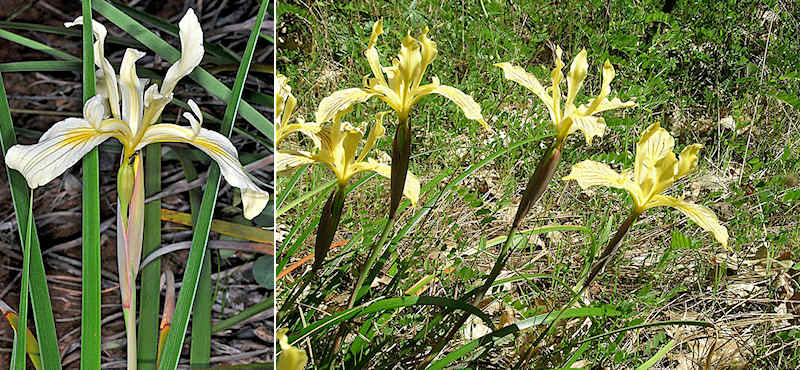 Range: The Klamath-Siskiyou Mountains of southwestern Oregon and adjacent northwestern California.
Original material: Waldo, Josephine County, Oregon 1884.
Key identifying features:
Stems mostly encased with short green or brown overlapping bract-like leaves.
Stems typically produce two flowers.
Flower tube short (around ¼ inch) and stout.
Leaves broad (½ inch), thick, stiff and distinctly two-sided.
Base of leaves and stalk frequently tinted pink to reddish-brown.
Flower color: Large, pale-cream to deep golden-yellow flowers, with prominent reddish-brown or purple lines. Often with a deeper golden-yellow zone in center of petal.
Habitat: Found among pine needles in shaded sites in dry pine forest, or in meadows in the shade of large shrubs or bracken ferns.
Name: By Sereno Watson, for the characteristic short, overlapping, bract-like leaves along the stem.
Comments: Siskiyou iris produces natural hybrids with I. chrysophylla, I. douglasiana and I. innominata in areas where their ranges overlap. The condition of leaves ("bracts") extending up the stem that gave the species its name, is not exclusive to Iris bracteata. It is also found in several other Pacifica iris, though usually to a lesser degree.